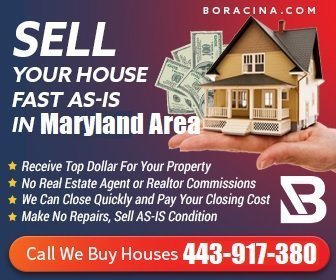 Need to Sell My House Fast in Baltimore County, MD We buy ugly houses and land lot without Real Estate Agent or Realtor fee. Call 443-917-3800 for quick cash offer on your property land near me asap. We are cash home buyer and can close quickly include pay your real estate closing costs known as (buyer concession) Baltimore, Dundalk, Towson, Catonsville, Essex, Woodlawn, Owings Mills, Randallstown, Pikesville, Parkville.
If you are in Baltimore, MD and are baffled by the prospect of selling your house that is lingering on the market for long, we have you covered! No longer the question of Sell My House Fast Baltimore MD will bother you as we will make the selling easy, fast, and convenient for you to manage. We buy all types of property, and we know when you are looking to sell fast, you cannot wait to get the fair price for your property.
There can be many reasons why you're struggling to sell your house. Sometimes you need the cash for an emergency, and the buyer market tries to manipulate you in bargaining for a lower price. At times you are unable to repay a mortgage and are facing the threat of foreclosure unless you sell the property. Some personal reasons may also add on to the need of selling your home. Issues such as getting a divorce, shifting to a new city, lien problems, and all other matters makes it necessary for you to sell your property timely and get the capital to settle your need.
We are here to help homeowners, and we do not offer a price that is unreasonable or will put you in a financial burden. We don't care where you live in Baltimore and can send our team to your property for an initial inspection on a call. Do not hesitate to call us if your home needs repair, is vacant, or conditions are so adverse that you feel no one will want to buy your house. We will make selling an easy process, and we accept all types of homes, even those where there is fire damage, or rental disputes and liens settlement. With our services, you can sit back and relax and let our team take care of your selling.
We Buy Houses AS IS near you like:
Condo, Townhomes, single family residential, duplex, Raw Land, 3plex or triplex, 4plex or fourplex multifamily unit apartment you can sell them to us ASAP by call us at 443-917-3800 or fillout our form at https://boracina.com/discovery/
-You Receive Top Dollar for your property
-You Pay No Real Estate Agent or Realtor Commissions
– We Can Close Quickly and Pay all your Closing Cost
-Make No Repairs, Sell AS IS condition fast
Top 20 Reasons Why You Should sell it to Boracina Cash Home Buyer
FAST & EFFECTIVE SOLUTIONS
FLEXIBLE OFFER, NO OBLIGATION and It's Convenience
A real company with a real team located in Maryland
City Code Violation Property
Absentee, out of state or town owners
abandoned houses near me or vacant home
Death of Spouse Property
Tired Landlord Property
For Sale By Owner
County Tax delinquent Lien homes for sale (we buy house)
Inherited Probate Estate Property
Divorced Property
Fire Damage (burn down house)
Water Damaged ( flood house)
Pending pre-foreclosure, behind or late mortgage payment assistance
Job Change or Business Relocating
Loss a Job, Sick or Illness or move to Nursing Home
Real Estate bankrupt properties
Distress or unwanted property for sale by owner
Senior Reverse mortgage or need to liquidate Real Estate we can help
There are many people who may want to sell their home fast, but do not know how to go about it. While there is always the option of hiring a realtor, most realtors usually take months to sell homes. If you want to sell the house quickly, therefore, hiring a realtor may not be an option. In addition to taking a lot of time to sell a house, realtors usually charge huge fees or commissions. They also require the property to be in pristine condition to make it easier to sell. This means that you may have to spend a lot of money on repairs and renovation works to sell the property. The good news is that we buy house Baltimore Maryland.
Why Choose Us
i) We Charge No Fees
The best thing about us is that we do not charge any commissions of fees. In fact we cover all closing costs. By choosing to work with us, you can avoid these costly fees and commissions.
ii) Sell House Fast
One of the key reasons why people prefer selling to us than selling through a realtor is that we normally conclude deals quickly. After the initial inspection from our team, you can expect the deal to be concluded in just a couple of days. In fact you can expect to get the money almost immediately if everything checks out. If you want to avoid foreclosure or want to sell house fast to move overseas, you can get the money you need quickly.
iii) We Buy All Kinds of Houses
Selling probate, divorce, foreclosure, bankruptcy and rundown properties is almost impossible. After all, the average buyer usually avoids these kinds of properties. Fortunately, we have the experience and expertise needed to procure these types of properties. This means you do not need to spend your savings or get a loan to carry out renovations. We inspect the property, make an offer and buy it as it is if the offer is accepted.
The Eviction Process in Maryland From Start To Finish
Maryland Estate and Probate Attorney Process
Helpful assistance relief programs Resources Near Me:
Flood Disaster Resources for Baltimore, MD office of emergency management: https://mde.maryland.gov/programs/Water/FloodHazardMitigation/Pages/reliefassistance.aspx
Maryland foreclosures process: https://www.dllr.state.md.us/finance/consumers/mortforesum.shtml
Baltimore Maryland legal aid housing help: https://www.mdlab.org/
Here are the lists of cities and counties we serve as i need help selling my house Maryland
Arbutus, Baltimore Highlands, Bowleys Quarters, Carney, Catonsville, Cockeysville, Dundalk, Edgemere, Essex, Garrison, Hampton, Ilchester, Kingsville, Lansdowne, Lochearn, Lutherville, Mays Chapel, Middle River, Milford Mill, Overlea, Parkville, Perry Hall, Reisterstown, Rosedale, Rossville, Timonium, White Marsh, County, Maryland Nearby area.